Last year we introduced the first ever ALL-CTL Team. It is another way to recognize the best in our league, as picked by the people who run it. The player awards are great but don't necessarily recognize everyone that deserves the recognition for their fantastic years. With the ALL-CTL Team the people who run the league pick who we think our best were in 2016. We picked a 5 Man Pitching Staff, 4 Infielders, 3 Outfielders, 1 Catcher, a Utility type player, and this year introduced a DH. All the team mangers/league officials had a vote. The players who received the most votes from the group of coaches/officials are our winners.  Because of ties our ALL-CTL Team breakdown was top 6 Pitchers, the top 4 Infielders, top 3 Outfielders, the top catcher, the top Utility guy, and the top DH.
Some of these guys won some of the Player Awards, some didn't… but we can say everyone on this list is deserving of this honor.
ALL CONNECTICUT TWILIGHT LEAGUE WINNERS (see below for individual info & awards):
Pitchers: Zach Cloft, Devin Over, Pete Moulin, Sam Tinkham, Chris McGrath, Ken Cook (also DH)
Infielders: Alex Magoulas, Scott Kelleher, Brett Gotowala, Chris Bouchard
Outfielders: Russell LaFleur, Dustin Mocadlo, Nick DiNino
Catcher: AJ Lowers
Utility Player: Eddie Dickman
DH: Ken Cook (also P)
Also recieving votes, but not enough to win… the Honorable Mentions: Bryant Morander -P- Elmers, Noah Shaw -P- Orioles, Marco Ross -P- Knights, Rafael Garcia -INF- Orioles, Rick Barrett -INF- Knights, Troy Deleon -P- Nationals, Mike D'Antonio -INF- Angels, Armando Soler -INF- Indians, Steve Kelly -INF- Pirates, Brian LaRochelle -INF/Utility- Knights, TJ DiFiore -OF- Angels, Julio Ortiz Rivera -OF- Knights, Travis Mistretta -OF- Angels, Josue Lopez -OF- Panthers, Jordan Berhiaume -C- Panthers, TJ Fearon -P- Orioles, Mike Cookson -P- Indians, Brendan Wyman -P- Angels, Albert Pienkowski -P- Indians, Alex Fretz-P-Elmer's, Nate Heroux -INF- Nationals, Alex Hurley -INF- Pirates, Dan Samociuk -INF- Ridges, Brian Pinney -INF- Indians, Nick Hudyma -INF- Indians, Josh Figueroa -INF- Pirates, Jack Risley -INF- Ridges, Nick Barone -OF- Indians, Kyle Lentini -OF- Knights, Brandon Miner -OF- Ridges, Camden Mamagonian -OF- Indians, Dan Lima -OF- Pirates, Tim Phillips -OF- Pirates, Ben Trembley -C- Pirates, Mike Dean -C- Angels, Brian Kohn -UTIL- Expos, Joel Hara -UTIL- Nationals, Todd DaCunha -DH- Ridges
— Ken Cook, CTL VP & Elmer's Manager
*NOTE… For each winner, league VP Scott Dickens put together a retro style baseball card award. You can click on any of the images for a full resolution downloadable picture, which you can save for yourself and post elsewhere… just give credit if you do to Scott (@S_A_D / @SDAce18 on Instagram/Twitter). These are made to be printed at actual baseball card dimensions 2.5″ by 3.5″. They are also based loosely on the original 1983 Topps Baseball Card design.
CLICK IMAGES FOR THE FULL RESOLUTION PLAYER AWARD CARDS
Individual player writeups by Don Fodaski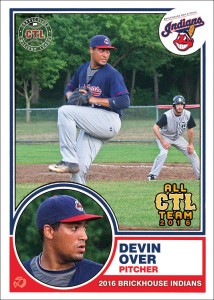 Pitcher – Devin Over, Brickhouse Indians
– One word comes to mind from the former UCONN product, DOMINATION! Devin joined the Indians mid-way through the season and posted some eye-popping numbers. 29ip, 5-0, 46K, 7BB, .48 ERA, .72 WHIP.
---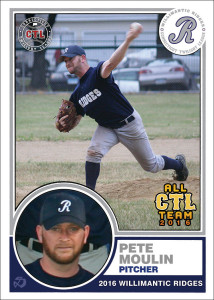 Pitcher – Pete Moulin, Willimantic Ridges
– Pete has been a mainstay for the Ridges for years and absolute horse on the mound. He also wins the league "rubber-arm award" leading the league with 9 complete games! and a nifty .93 ERA to go along with everything else….
---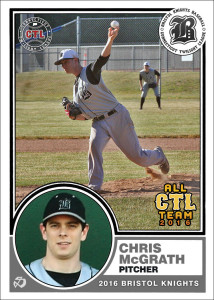 Pitcher – Chris McGrath, Bristol Knights
– The steady ace of the regular season champion Knights. Year to year, you know exactly what you'll get from Chris. Posting solid numbers once again with 5 wins and an .089 ERA.
---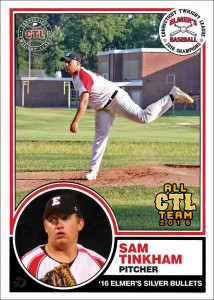 Pitcher – Sam Tinkham, Elmer's Silver Bullets
– Very impressive season for the rookie lefthander who led Elmer's in ERA (1.08) and WHIP (.90)
---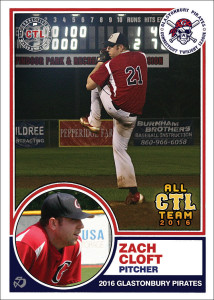 Pitcher – Zach Cloft, Glastonbury Pirates
– 2016 CTL Cy Young, what more needs to be said?
---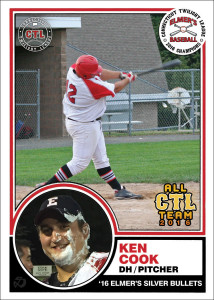 DH & Pitcher  (picked for both) – Ken Cook, Elmer's Silver Bullets
– There isn't a single button Ken pushed wrong this year. Not only leading his team as the manager, Ken also hit  .333 and picked up 7 wins and 3 saves on the mound for the 2016 CTL Champs.
---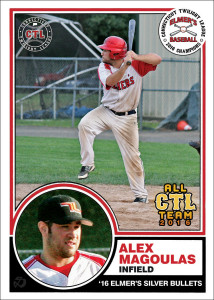 Infielder – Alex Magoulas, Elmer's Silver Bullets
– Another rookie for Elmer's, Alex played some of the best SS in the league.. his slick fielding and dangerous bat (.340, 34 hits) was the catalyst in the 2016 championship run.
---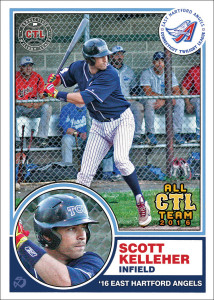 Infielder – Scott Kelleher, East Hartford Angels
– Angels veteran, Scott Kelleher led the Angles offense hitting .407 and was an anchor at SS.
---
Infielder – Brett Gotowala, Elmer's Silver Bullets
– The 2016 Batting champion (.429) had a fantastic year hitting and in the infield. He also finished second in "comeback player of the year" award.
---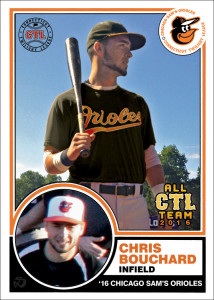 Infielder – Chris Bouchard, Chicago Sam's Orioles
– Chris was a difference maker for the Orioles offense hitting .397. His leadership in the infield was second to none
---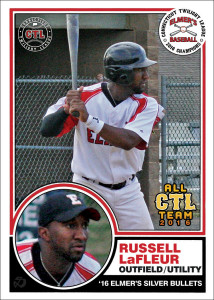 Outfielder (also Utility) – Russell LaFleur, Elmer's Silver Bullets
– The 2016 CTL MVP was not only the leagues #3 hitter, but Russ might have been even more important to Elmer's defense as he could play all 9 positions at a very high level.
---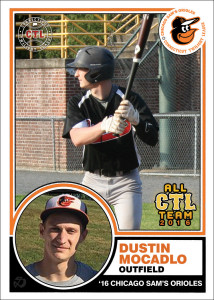 Outfielder– Dustin Mocadlo, Chicago Sam's Orioles
– Dustin was the Orioles second leading hitter, hitting .352, but it was his defense and leadership in CF that puts him among the leagues best.
---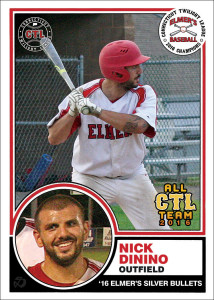 Outfielder– Nick DiNino, Elmer's Silver Bullets
– His lighting fast speed enables him to get to almost anything in the OF…. Nick is also the leagues perennial thief, stealing a league best 25 bases.
---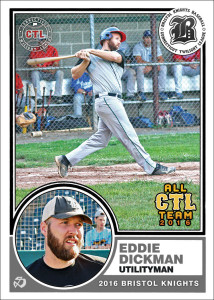 Utilityman (Catcher, 1B, P) – Eddie Dickman, Bristol Knights
– "Steady Eddie" was a a rock behind the plate for the Knights. Its not everyday you find a left handed catcher with a cannon arm! oh, he also hit .358 to lead the regular season champs.
---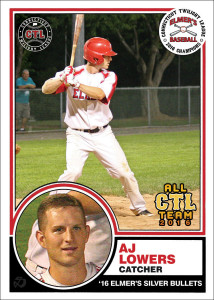 Catcher – AJ Lowers, Elmer's Silver Bullets
– How can you go wrong with the leagues top rated catcher. AJ was voted also as a gold glove and was the leagues 2nd leading hitter, hitting .413