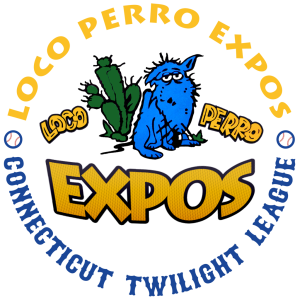 The original Loco Perro Expos, formed in 2011, decided to merge with the Moodus Nationals this off season to form the East Hampton Royals.  With the league down to 9 teams, Brian Timmes, decided to scour the surrounding area for local talent to form a new Expos team.
Utilizing the free agent list that the Connecticut Twilight League provides and contacting former players from Hale Ray HS, Norwich Free Academy, East Hampton HS, and Bacon Academy a new Expos team has been formed to compete this season. Numerous players on the roster have collegiate experience from the following schools, Springfield College, MA, University Of Connecticut-Avery Point, Lyndon College, VT and Norwich University, VT.
Being one of the two expansion teams added to the league this season, the Expos are hopeful that their youth and exuberance will translate into some early success on the field and carry them throughout the season.
Sponsors:
Loco Perro


Home Field:
East Hampton High School
West Road, Marlborough
Coaching Staff:
Brian Timmes: Manager
Gregg Johnson: Assistant Manager
James Turner: Assistant Manager
Expos Roster for 2017:
Brian Timmes (Manager) – 2B, OF, P – 4th year
Gregg Johnson (Assistant Manager) – IF, P – Rookie
James Turner (Assistant Manager) – P, OF – Rookie
Jon Comer – 2B, SS, P – 3rd year
Matt Sevigny – SS, 2B, P – 2nd year
Zak Johnson – P, 2B, 1B, SS – Rookie
Scott Svalestad – P, OF, 3B – Rookie
Miles Laureano – OF – Rookie
Ian Rielly – OF, C, 1B – Rookie
Anthony Zerkow – C, 3B – Rookie
Kyle Enrique – P, 3B, 1B – Rookie
John Silverstri – P, OF – Rookie
CJ Ryan – C, 2B, 3B, OF – Rookie
Zach Lawrence – OF – Rookie
Chad Stanton – P, 1B, OF – Rookie
Fletcher Comment – P, OF – Rookie
Donnie Ballsieper – OF/IF – Rookie