Willimantic Ridges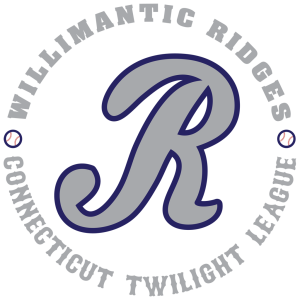 Willimantic Ridges History:
The Ridges originated in the 1940's playing in the Willimantic and Norwich Twilight Leagues in Northeastern Ct. In the 60's Jerry Dunnack started playing and running the Ridges and with a # of standout players including Scott Dunnack(Jerry's son) and Bobby Dunnack(nephew) the Ridges won several League Titles. Jerry Dunnack continued to manage the Ridges until 1995 when the League disbanded for 5 years. Around 2000 Jack Noheimer (Timber) ran the Ridges and won several League Titles in the next 5 years. Jack passed the Ridges to me (Mike Moulin) in 2004 and in the next 3 years we played well but never won a Title The Willimantic League folded up and the Ridges decided to join the MTL (Manchester Twilight League) in 2008, playing well in the tournament but losing to a good Wetherfield team. In 2009 + 2010 the Ridges played well and won the end of the season tournament each season. 2011 was a rough year for the Ridges finding ourselves in the middle of the pack and losing 2 in a row in the tournament. We are hoping for a comeback this season (2012).
We play out of Willimantic at Rec Park which has an enclosed park- 320' down the left and right field lines, 365' in left and right center and 415' in center.
The Ridges have two primary sponsors. The Trolley Pub on Main St. and Dunkin Donuts also on Main St. in Willimantic.
The Ridges don't have a logo only an R on our hats, the Ridges is actually a place in Mansfield, out in the country, a big Ridge with an exceptional view looking out over several towns.
Team Founded:
1940s in the Willimantic and Norwich Twilight Leagues.
Home Field:
Rec Park in Willimantic on Rt 14.
Sponsors:
Dunkin Donuts, Trolley Pub on Main St., Willimantic
Coaching Staff:
Mickey Moulin – manager
Pete Moulin – coach
Todd DaCunha – manager


Ridges Roster for 2017
#7 Pete Moulin – P/OF
Kevin Meakem – 1B
#11 Mickey Moulin –  IF
#25 Chuck Sauer – P/C/IF
Dan Samociuk – IF/P
#12 Brandon Miner – C/OF
#33 Myles Kelly – 1B
Todd Dacunha – OF
Shawn Herlihy – OF
Eric Van Heel – P/OF/IF
Ryan Briggs – IF
Jack Risley – P/IF/C
Luis Vega – P/OF
#13 Bill Thurston – Utility
#28 Dan Livingston – P
Chris Visone – OF